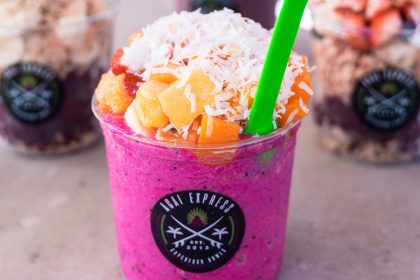 Food delivery App GrubHub names acai bowls as one of the most ordered food items in the pandemic.
With a global pandemic underway many businesses didn't know if they'd be able to withstand the market fluctuations and continue operations. The quick service and health food industry was no exception. Would Acai Express be able to withstand the economy closing down, 'stay-in-place' orders and a never before seen global crisis impacting the economy? The short answer is — yes.
As a quick service health food concept Acai Express' bowls are categorized as a comfort food, which proved key in customer demand.
A Disaster Proof Franchise Concept
When Hector Westerband opened the Acai Express concept in his home state of Puerto Rico, he had an idea: to blend his passion for fitness with healthy eating options on-the-go. Little did he know that in the 7 years he'd be open for business his small enterprise would be tested in the most high level emergency situations.
Westerband started Acai Express with a single food truck that has now grown into a nationwide movement, but this didn't come without its challenges.
In September of 2017 two major hurricanes passed by Puerto Rico: first hurricane Irma, then: category five hurricane Maria. Maria brought never before seen levels of devastation and uncertainty, but this is where Acai Express shined.
Shortly a month after Maria, Westerband opened a trailer in Isla Verde where locals would go for fresh acai bowls and first-aid supplies. His trailer was one of the first food establishments with a working electric power plant.
The coronavirus pandemic was no exception to this disaster proof concept. The stay-in-place orders were no match for loyal customers who were in the search for healthy and tasty eating options. The Acai Express to-go and drive-thru business model was a perfect match for the times: minimal physical contact through the quick service model.
A Morning Delight, But Really Anytime Of The Day
Besides the Acai Express franchise model being tried and tested in Puerto Rico, studies prove that acai bowl demand has grown throughout the 2020 public health pandemic. According to GrubHub acai bowl demand has risen 359% in the first half of the year alone, with Future Market Insight market projections anticipating acai berry demand to reach 1 million tons in 2026.
The GrubHub study shows that consumers are gravitating towards healthier eating options, especially before the afternoon. At Acai Express not only have sales increased, but they're not limited to a certain time of day.
When shelter-in-place orders were emitted, consumers seeked comforting foods such as acai bowls, frozen popsicles and ice cream to please their sweet tooths. Coincidentally, in 2019 Acai Express launched a new concept: Premium Pikolé Popsicles, made with natural juices and fresh ice cream concoctions. And in the middle of the pandemic Acai Express opened another innovative concept: Acai Express Creamery & Cookie Café in Plaza Encantada (Trujillo Alto, Puerto Rico.) With this creamery and cafe concept the acai brand adds freshly made ice cream and baked goods to their already varied menu.
With a proven track-record of all-day sales potential, Acai Express is poised to keep thriving — come hurricane, pandemic, or unexpected turns.